"Сashbery" - SCAM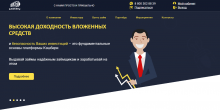 Welcome, dear readers of my blog and those who are not alien to the world of investments.
As I promised yesterday in the chat of your blog in Telegram in this article I will introduce You one promising project, which I recently added to its investment portfolio and, given all its advantages, now expect a good dividend on the Deposit.
So, get acquainted with investment platform. "Сashbery".
For starters, suggest You look at the site and its preparation for working with potential investors. As You can see, the site has very simple for any user of the Internet. Its sections are filled with information so that every, regardless of age or computer skills, was able without assistance to understand that here to what. All clear, competently, logical and informative.
Inherently "Сashbery" is adapted for "Russian man" system of lending to private individuals and small businesses from a British company PRIVATE LIMITED COMPANY "CASHBERY LIMITED".
To be precise, the "Сashbery" domestic "daughter" of his high-society English "mother". the Target platform to unite in one place in need of money and those who are willing the money they provide.
It is not necessary to ignore the documentation "Сashbery, which, I tell You, includes all the documents, down to the "Policy of privacy". Also in public access is:
• Loan agreement between MFO "Cerberi" PRIVATE LIMITED COMPANY "CASHBERY LIMITED";
• Public offer for users of the service;
• Contract of cash loan (liability side) between the investor and "LIMITED CASHBERY";
• Documents on the registration of PRIVATE LIMITED COMPANY "CASHBERY LIMITED".
It would be desirable to nitpick, but the documents are all right here therefore, the probability of long-term performance of the Fund increases significantly.
As You could already understand, "Сashbery" provides an opportunity to its users to make loans to other participants or to obtain a cash loan if necessary. And if the second option we are interested is small, then first we will stop in detail.
Investment proposal "Сashbery" is quite simple and contains 3 possible options for investing money:
• Microloans to individuals.
• Loans to small and medium businesses.
• Financing against pledge of movable and immovable property.
Each of these categories contains another 3 sub-categories, but at the moment development for each kind of investment is available for 1 rate plan.
The first rate – it "Luxury" from "Microloans to individuals". I must say that it is suitable for investors with any size portfolio. The minimum Deposit amount is 1000 rubles, and the maximum is limited to 29.999 rubles. According to the terms of this package, You on a daily basis for the 400 will receive the charge on 0,8% of the amount of the contribution that at the expiration of term investments in the amount of 320% payments from 100% - is the body of Your contribution and 220% net profit!
Second rate "Prime Minister" from the group "Loans to small and medium business" has the same working principle but differ in the range of deposits (here it is from 30,000 to 199.999 rubles) and the total profit, which will amount to 260%. As a consequence, increases and daily interest accrual, here it is 0,9%.
"President" - the third rate of the group "Financing against pledge of movable and immovable property". As you might expect, it is the most profitable (300% profit to 1% daily), but also the most "difficult" for the investor, since the level of investment here is set at 200,000 rubles.
in addition, I note, for plans "Prime Minister" and "the President" is available insurance contribution from force majeure, which is quite an attractive feature.
There are more rates, which are activated in the presence of the term loans in the system "Сashbery". They bring a 7.67% charges per day for 15 days that the outcome will be 115% refund.
One thing that You should know: the first accrual of profit occurs 48 hours after making a Deposit.
There is a good opportunity to increase their current assets by engaging in the "FundСashbery" new partners. Initially, it should be noted that the size of the partner's remuneration will depend on the tariff you choose You have invited people, and the referral fee is paid 50/50: 50% You and 50% equal parts of each dividend to Your partner.
Let's look at the possible reward closer:
*In the picture these dimensions as 3/3, which means 3% from 3% while dividends are credited to Your partner. I, for facilities withled all in one digit.
As You can see, for all rates on deposits provides 5 level structure charges, and the size of accruals is equal to:
• 6%-2%-1%-1%-1% for "Luxury";
• 7%-2%-1%-1%-1% for "Prime Minister";
• 8%-2%-1%-1%-1% for "President".
For term loans, the structure of affiliate accrual is 2 levels deep with the reward 1%0,5% of the amount of the Deposit referrals according to their level.
But this is not all, "cookies" of the Fund. There are also good, in my opinion, motivation system titles and ranks, following which, you can get a reward of up to 500,000 rubles. I dwell I will not, because it's very long, and just give You the motivational conditions of the program in graphical form (there will be questions – write on e-mail or in chat, I will answer You).
And if You've decided that you can develop with "Сashbery" no, You're wrong. In addition to what I described above, it is possible to "Executive bonus", the amount of which You will see in this table:
All of these factors, in combination, provide just elegant tool for making money. "Сashbery" well motivates each of its members to engage with partners that, in turn, a very positive effect on the financial position of the platform, and therefore on the earnings of users.
A good and Arsenal payment methods. In the platform "Сashbery", along with such EPS as PerfectMoney, Bitcoin, Payeer, AdvCash, OkPay, Yandex Money, the Qiwi, NixMoney is present and withdrawal to the Bank account Sberbank, Alfa Bank, WORLD, GenBank, TCS, PSB, VTB24, Russian Standard.
Withdrawal from the project "Сashbery" is on Fridays from rules 72 hours. Withdraw the same amount you $1 or 60 rubles EPS 100 roubles on the Bank account. Also fee is charged for payment: EPS – 0,5%, banks – 2% of the requested amount.
The project dashboard is chock full of information. To be honest, at first I thought that I'll be a long time to understand, but no, were all very easy.
So, in addition to traditional tools (to create a Deposit, to request payment, view statistics, get your referral link, etc) here You available learning materials, the purchase of shares of "Сashbery", bonus and store "Cashbery Store".
Let's briefly look at the bonuses and share purchase "Сashbery".
Purchasing securities "Сashbery" You become "owner" of the Fund. Actions as any of the securities may fluctuate in price, and that You can earn. In any case, now the cost of 1 share is 10 rubles, and in the future, who knows, maybe more than 1000. What to do with it is up to You. I just have such an opportunity.
Bonuses are given to any user for his activity (something like those that I have on the blog). For example, for signing up You will receive 120 rubles video review of 500, for the repost withdrawal 10 rubles and so on. These bonuses are You can spend to pay 50% the value of the goods in the "Cashbery Store".
It remains to mention the support of users and you can finish your review. On the website "Сashbery" in the section "Contacts", You will find the addresses of the offices of the company, address, e-mail administration, telephone hotline, and links to groups in social networks. This is more than enough to ensure uninterrupted support professional participants of the "Сashbery".
Of course, I will not describe all the information that is on the website as we don't want to inflate the article to the size of the scientific employee of a research Institute. On the website besides all that I mentioned, there is still a lot of information and educational materials that will help all participants to understand its benefits and opportunities. I think You'll be able to choose what to see, what to skip past the eyes.
That's it for me. Waiting for Your opinions about the Foundation "Сashbery" in the form of comments and discussion in the chat my blog on Telegram.
All the best, friends.
My contribution:
P/S the Dynamics of deposits in the "Сashbery" you can look at InvestorsStartPage.com
Опубликовано: 30 января, 2017 в 10:39