"Robinhood international LTD"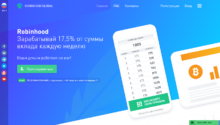 Welcome You dear readers of my blog.
Today I already submitted to Your attention one project, which has decided to work in the near future. And, actually, thinking on it for a while to stop, but hell, I couldn't resist and decided to try another Foundation of strength.
To be absolutely honest, I have some time to get accustomed to it, but somehow it was postponed indefinitely. But, it is my right inspired, and I decided.
So, in this article we will look at a project that draws attention just by name, not to mention the investment proposal.
Meet the "Robinhood international LTD". I think many of You have already heard about this project, but most know him only in passing. This situation mostly stems from the fact that the Fund is being "partisan" and is just beginning to be advertised on the major aggregators and monitors. Given such a smooth start, we can assume that administrator of this project, the more "wolf" and work here have, at least, productive.
For starters, let's focus on what is this company and how it can be useful to us.
"Robinhood international LTD (hereinafter referred "Robinhood") an Autonomous system of trust management, which is engaged in the trading of cryptocurrencies. To be precise, an object of investment "Robinhood" is Altcoin.
If You have any question: "Why Altcoin?" that it is the answer on the site of the project. In the opinion of company management, new cryptocurrencies have high volatility and with proper analysis, you can get a good profit from their trading. Well will not question the opinion of professionals of the project. They know better.
Despite the fact that major sections of information on company registration I have not found, on the FAQ page, there is a link to check the legal activities of the company and, after going through it, it can be concluded, what did "Robinhood" officially registered and does not contradict the law.
Regarding the project site, mention it minimalist. On the one hand, we are accustomed to seeing in other funds multiple sections with different information, and it is, as it were, was a nice plus in favor of the project. But from another point of view, the information provided was often useless and just distracting.
The "Robinhood" it's. In fact, the administration is able to fit a lot of useful information just in the two sections. On home page and FAQ. If You want my opinion, then this is just great.. I think many administrators should learn the presentation of information "Robinhood".
Also useful to know that the site is running on a licensed script and include SSLсертификатом data encryption. Why is it important to get this information? It is possible to understand that the Fund's management spared no expense on the sustainable health of the portal, and this, at least, evidence of their desire to work for a long time and the result.
Now, let's will reveal marketing "Robinhood".
It consists of uniform for all subscribers, General return of funds in the amount of 157.5% of the nominal value of the initial contribution of which is 100% is the body of Your Deposit as it is included in accruals and 57.5% net income.
Accruals in the project occur in the last 9 weeks 17.5 percent every 7 days. Thus, each week You become closer and closer to the breakeven point, and in the sixth week, begin to enjoy the profits.
"Robinhood" connected most popular for "domestic investor" payment system Perfect Money, Payeer, Advcash and Bitcoin. As there is NIXmoney, which, at most, designed for international users.
Another important point that you should know when investing limits on contributions the "Robinhood" set in the range not lower than 10$a and not above 500$ 1 contribution. Only for one participant is allowed up to two deposits, bringing the top marginal Deposit of up to 1000 USD.
Withdraw funds from the project if you have to balance the amount of 0.1 greenback, it is necessary to consider that payments are processed manually up to 48 hours from the time of order. So, have patience.
If You want to increase their profits from working with the Foundation "Robinhood" can use the partner programme. By its terms, You will receive profit from charges four levels partners.
Structure of remuneration is as follows:
20% from the accrual of the partners of the first level;
3% from the second line referrals;
2% from the third level;
1% from the accrual of the partners in the fourth line.
As for me, affiliate program simply gorgeous. Sure not a single sensible referrer does not pass such a proposal. Moreover, for a referral reward own Deposit not required.
So, how to increase profits or to earn "Robinhood" without investment, we understand. On stage a personal account of the investor.
He, like the site itself is very simple. The main page has a calculator of income and a block to recharge.
In the sections that are left, you can also top up your balance, request payment, view the list of operations and your investment, set your account settings to receive materials to attract partners, and to contact the support representatives "Robinhood".
Support are available via ticket system, online assistant on the site through groups in social networks and via E-mail.
In General, I think each of You will find here a communication method with which it is comfortable.
And here, dear friends, I have everything. To say at this stage I have nothing more. As a Deposit I made in the "Robinhood" $ 200 and will keep You informed of the latest developments associated with this project.
Until next time. All the best.
My contribution:
P/S the Dynamics of deposits in the "Robinhood" you can look at InvestorsStartPage.com
Опубликовано: 5 апреля, 2017 в 12:55