«Coin Snack» - SCAM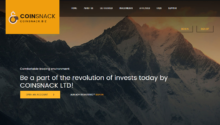 Greetings to You, dear readers.
We left behind the month of March, which many investors aptly named "samoletom" and started a new month of spring, which I hope, with in terms of investments will be much better.
Hope this gives the fact that I just yesterday added to its portfolio of promising, in my opinion, the project, and today I want to introduce You.
The fund, which we will talk today, appeared on the Internet quite recently, to be exact, it was only yesterday. However, don't underestimate its potential because in "the wheel" this Fund is an experienced administrator that is immediately evident at the level of implementation of website and advertising methods.
So, let's begin.
"Coin Snack" is officially registered in the UK company, which is engaged in trade and exchange cryptocurrency in the stock and private markets. According to the information that can be found in the section "About Us", the main objective pursued by the management of the company in entering the Internet – this is an increase of own circulating assets and, as a result of earnings. On the website and it says: "the earnings we have now is a tiny part of what we could have sufficient working capital".
If all this is to sum up, it becomes clear the essence of Your earnings, as an investor. You transfer their surplus funds to the management of "Coin Snack" and the company, in turn, undertakes to share the profits she will get from using Your money for their own purposes. It's simple and easy.
On the Foundation's website, I can only say "wow". Initially, I liked the colors and the design (immediately felt that it was the work of an experienced designer and not an Amateur), but upon closer examination, I found the website "Coin Snack" also quite convenient for the users. All sections filled with the required information and are right at hand that much easier. In addition to these advantages, is to provide a licensed script which is based on the operation of the site and protection against break-ins, which provides the latest SSL certificate from Geo Trust. By the way, those who say that SSL is in almost every project, I propose to look in the address bar, greenbar, who certainly do not allow projects with a weak defense.
And now, dear friends, let's talk about the main issue for us: "As "Coin Snack" we are offering dividend".
The project has 3 subscription plans that share daily rules of calculation of profit and term of Deposit is 15 calendar days
"Starter" - perfectly will be suitable for investors with a small portfolio, because minimum Deposit amount here is only$20. At the same time, throughout the duration of the investment, You

every day will receive 8% return

;
"Basic" - has increased a bit the threshold "input", which is 100 USD. But at the same time, and charges here are higher. They are

9% every 24 hours

;
"Enterprise" - available if the Deposit 200 $

allows you to receive 10% of charges per day

.
If you take into account the fact that body of Your Deposit is included in daily payments, we will get the total refund in the amount of:
120% for "Starter";
135% to rate "Basic";
150% for "Enterprise".
I note that I am a lover of marketing, in which the Deposit is included in payments. With such regulations, risks that arise when investing – much lower than the return of the body of the Deposit at the end of the period.
For the convenience of users, under the payroll "Coin Snack" is functional profit calculator, which will help to calculate the economic effect of the work of Your contribution, depending on its size and the selected rate.
If You know how to convince to attract investment projects of other investors, then you can safely count on an additional "gratitude" by "Coin Snack". Of course, this "gratitude" be expressed in monetary terms.
By the terms affiliate program , You can get the profit from three levels of referrals according to the structure:
5% of the Deposit personally invited users;
3% of the Deposit of referrals in the second line (those who were invited to individual partners);
2% from the contribution of the partners the third level.
Thus, properly build their structure and taking with her work, You can receive up to an additional 10% of the turnover invited users.
Separately, I note that special terms and conditions for the affiliate program (own Deposit) on the website I found. So, dear friends, if You woke up in a referrer can earn without own investments.
To begin with "Coin Snack" You need to register on the website and have an account in one of the following payment systems: Perfect Money, Payeer, Bitcoin, Advcash. And after that, make your first Deposit or to attract partners and bring a profit. Incidentally, all payments from a project are immediately, and minimum withdrawal amount is only 0.1$ allows you to order of payment after any debit transactions.
So, You have only to look to the personal account of the investor, as well as to understand where to go in case you have any questions and can be completed.
Let's first let's talk about the office of the investor "Coin Snack". As for me, as it is simple and intuitive for any user regardless of his "experience" in investing.
Here You can see the basic financial information your account.
Also you can to create a Deposit, to see the history of write-offs and charges, order payment, see the list of its partners to obtain materials to work with referral program of the project, as well as set your account settings and security.
As You can see – it's simple and easy.
If the "Coin Snack" You have any questions or difficulties, You can get expert help project staff. This can be done via the ticket system, which is located in the tab "Support". There You will find and e-mail administration, where, in principle, also possible to apply to the description of your problem.
Although, not gonna lie, I don't particularly like it when the site has no online assistance, user support "Coin Snack" this disadvantage is mitigated by its efficiency. an Answer to your "test" question I received in less than an hour, which is quite acceptable.
Perhaps I have nothing else to add in this review. the my choice I made, and a Deposit of 300 USD has already made.
You would like to hear opinion on "Coin Snack" and my review in General. I liked that, you may want to tweak all that you want to.
So, waiting for Your discussion of this article in the chat my blog Telegram there and discuss terms and conditions of our partnership in the key project "Coin Snack".
See you soon.
My contribution:
P/S the Dynamics of deposits in the "Coin Snack" you can look at InvestorsStartPage.com
Опубликовано: 4 апреля, 2017 в 6:04