April 5, 2017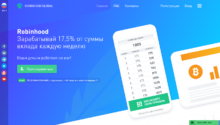 Welcome You dear readers of my blog.
Today I already submitted to Your attention one project, which has decided to work in the near future. And, actually, thinking on it for a while to stop, but hell, I couldn't resist and decided to try another Foundation of strength.
To be absolutely honest, I have some time to get accustomed to it, but somehow it was postponed indefinitely. But, it is my right inspired, and I decided.
So, in this article we will look at a project that draws attention just by name, not to mention the investment proposal.