March 21, 2017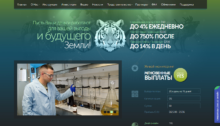 Hello, dear readers of my blog.
Well, as promised, today I will introduce You to one of the projects, which recently added to its investment portfolio.
Initially, I apologize for the long wait, but there were reasons of force majeure, which forced to delay the moment of this writing. But as they say: "Better late than never".
So, let's begin.